Đĩa Game Just Dance 2021 – Nintendo Switch – Hàng Nhập Khẩu – – top1shop
Đĩa Game Just Dance 2021 – Nintendo Switch – Hàng Nhập Khẩu
Just Dance 2021 là một trò chơi nhịp điệu được phát triển bởi Ubisoft và là phần thứ mười hai của dòng trò chơi Just Dance. Trò chơi được công bố vào ngày 26 tháng 8 năm 2020 trong buổi giới thiệu của Ubisoft Forward và trên web Nintendo Direct Mini: Partner Showcase. Nó được phát hành vào ngày 12 tháng 11 năm 2020 cho Nintendo Switch
Cách chơi

Giống như phiên bản tiền nhiệm, người chơi phải bắt chước vũ đạo của vũ công trên màn hình trong một bài hát đã chọn bằng bộ điều khiển chuyển động hoặc ứng dụng Just Dance Controller trên điện thoại thông minh. Giao diện và các chế độ chơi từ phiên bản cũ vẫn được giữ lại như Co-op Mode, Kids Mode và World Dance Floor. Ngoài ra, phiên bản có thêm mục "Quick Play" khi mới vào, chức năng này cho phép người chơi nhảy ngẫu nhiên một bài hát bất kỳ mà không cần chọn.
Danh sách bài hát
Những bài hát sau xuất hiện trong Just Dance 2021:
Tên bài hát  Nghệ sĩ | Năm
"Adore You" Harry Styles 2019
"Alexandrie Alexandra" Jérôme Francis (bản gốc bởi Claude François) 1977
"All the Good Girls Go to Hell" Billie Eilish 2019
"Bailando" Paradisio và DJ Patrick Samoy 1996
"Blinding Lights" The Weeknd 2019
"Boy, You Can Keep It" Alex Newell 2020
"Buscando" GTA và Jenn Morel 2018
"Dance Monkey" Tones and I 2019
"Dibby Dibby Sound" DJ Fresh vs. Jay Fay và Ms. Dynamite 2014
"Don't Start Now" Dua Lipa 2019
"Feel Special" Twice 2019
"Georgia" Tiggs Da Author 2015
"Get Get Down" Paul Johnson 1999
"Heat Seeker" Dreamers 2020
"Ice Cream" BLACKPINK và Selena Gomez 2020
"In the Navy" The Sunlight Shakers (bản gốc bởi Village People) 1979
"Kulikitaka" Toño Rosario 2003
"Lacrimosa" Apashe 2018
"Magenta Riddim" DJ Snake 2019
"Joone Khodet" Black Cats 2008
"Juice" Lizzo 2019
"Kick It" NCT 127 2020
"Paca Dance"[7] The Just Dance Band 2020
"Que Tire Pa Lante" Daddy Yankee 2019
"Rain On Me"[7] Lady Gaga và Ariana Grande 2020
"Rare" Selena Gomez 2020
"Runaway (U & I)" Galantis 2014
"Samba de Janeiro" Ultraclub 90 (bản gốc bởi Bellini) 1997
"Say So" Doja Cat 2020
"Señorita" Shawn Mendes và Camila Cabello 2019
"Temperature" Sean Paul 2006
"The Other Side" SZA và Justin Timberlake 2020
"The Weekend" Michael Gray 2004
"Till the World Ends" The Girly Team (bản gốc bởi Britney Spears) 2011
"UNO" Little Big 2020
"Volar" Lele Pons, Susan Diaz và Victor Cardenas 2020
"Without Me" Eminem 2002
"Yameen Yasar" DJ Asbi 2020
"Yo Le Llego" J Balvin và Bad Bunny 2019
"You've Got a Friend In Me" Disney-Pixar's Toy Story (bản gốc bởi Randy Newman) 1995
"Zenit" Onuka 2019
Giá sản phẩm trên Tiki đã bao gồm thuế theo luật hiện hành. Bên cạnh đó, tuỳ vào loại sản phẩm, hình thức và địa chỉ giao hàng mà có thể phát sinh thêm chi phí khác như phí vận chuyển, phụ phí hàng cồng kềnh, thuế nhập khẩu (đối với đơn hàng giao từ nước ngoài có giá trị trên 1 triệu đồng)…..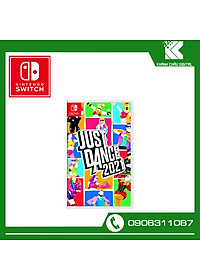 Đĩa Game Just Dance 2021 – Nintendo Switch – Hàng Nhập Khẩu – – top1shop